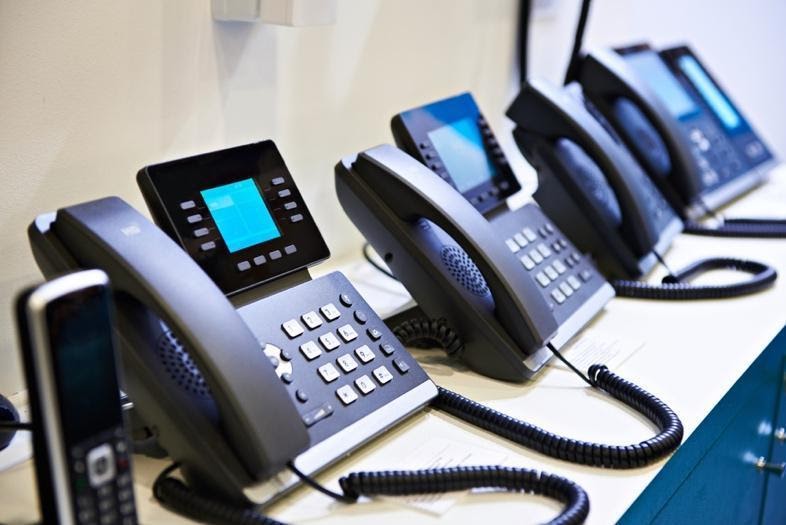 Across small and large organisations, the demand for IP phones is on the rise because of the advantages they offer. While IP phones look almost exactly like landline phones and use the same amount of space, they are easier to use and more cost saving as well.
What is IP Telephony?
Internet Protocol telephony or IP telephony is a term used to describe technologies that use a variety of protocols to exchange voice, fax, and other forms of information. This was traditionally carried over Public Switched Telephone Networks (PSTNs).
However, IP became the primary mode of transportation for almost all data communication since the 1990s and today, all communication carriers are using an IP infrastructure for most of their voice services. That's because the benefits of IP telephony in corporate environments are numerous and mainly related to infrastructure and reduced phone bills.
IP telephony has brought in the development of unified communications solutions that provide a complete communications package, on one platform and a single network. Which means, businesses can easily manage calls, chat, use video conferencing and collaborate, all through a single service. In short, it is a single network infrastructure that facilitates both voice and data solutions.
How does IP Telephony work?
Internet telephony is a communication option in which the internet is used to transmit telephone calls, either from one computer to another, from a computer to a traditional telephone set, or from one telephone device to another. In other words, IP phones use the internet to make and receive calls.
IP phones work by reading an individual's analogue voice signals, which means, when a caller speaks into the microphone, his voice is converted into data and the computer reads that data just like any other data sent over the internet. This data too is converted into digital signals and sent through a broadband connection. Basically, IP phones use a protocol known as VoIP (Voice Over Internet Protocol) and the entire process takes a fraction of a second. At the receiving end, however, it's the reverse process. Each data packet is then reassembled into data compatible with the receiving machine which demodulates the data and converts it back into voice signals, for the receiver to understand.
However, the final step in this process depends on whether the receiver is using a telephone system or computer. If it's a telephone, then a gateway device is used to complete the demodulation process, whereas if it's a computer, the sound can be heard via headphones or attached speakers.
In short, here the system uses IP and local area network (LAN) to transmit the calls and other information in place of the traditional phone line and phone network.
Key Differences between IP Phones and Analogue Phones
Cost, features, and expansion capabilities — these are some of the factors to consider when purchasing a phone system. These are also some of the things to consider while deciding between IP phones and analogue phones as there are many differences between the two.
Versatility and Scalability

Analogue phones may be inexpensive and simple but they are limited in their potential. Their features like hold, redial, speed dial and mute, are hardware-based which are difficult to use and difficult to upgrade. IP phones offer more flexibility when it comes to features, upgrades, extensions and expansion.

Infrastructural Limitations

Analogue phones run on plain old telephone service or POTS which is dated and more suited for smaller businesses. IP phones, on the other hand, can function wherever there is an internet connection and this makes the system run faster and better suited for larger businesses and organisations with larger call volumes.

Long-term Operating Costs

Upfront, analogue phones may cost less but bill amounts are high. IP phones cost more but call costs are significantly lower as the system works on the internet.

Wiring

IP phones can save you the trouble of having to invest in two separate sets of wires for workstations; that is not possible with analogue phones.

The bottom line is, bandwidth needs and budget play a major role when choosing the right technology. One thing to keep in mind, however, is that IP phones offer more flexibility as compared to analogue phones.
How does IP Telephony help your business?
Telephone communication is an ever-evolving service. More and more phone companies are planning to phase out their landline services and therefore, switching to IP telephony is the best alternative. Besides, IP telephony can benefit your business in many ways:
Easy to Integrate and Wireless

IP telephones are wireless and portable and IP phone services are extremely easy to integrate into a business's existing infrastructure. Unlike analogue phones, IP phones do not require any extra cabling. Being wireless, IP phones offers the added advantage of mobility to their users.

Cost-Effective

One of the most important benefits of IP telephony is that it is highly cost-effective. With the ability to make international and local calls at minimal rates over the internet, businesses are able to reduce expenditure significantly. With an IP phone, the only monthly charge is that of your internet data plan.

More Features Without Extra Hardware

IP telephony enables you to access advanced features like Call Pop, Advanced Call Routing, Call Queues, Auto Attendant, Video Conferencing, Instant Messaging, and Call Recording, without having to invest in any kind of extra hardware. It allows you to access more features like Directory dialing within the same organization and voicemail feature that sends an email alert. IP Telephony can also provide reporting tools to give you clear and concise information quickly.

Scalability

Companies using the landline service have to pay for each phone line and are often limited by the number of phone lines they can afford. With an IP phone system, there are no such restrictions. All they have to do is add an IP phone to their router without having to worry about the cost of an additional phone line since IP is wireless and all calls are routed via cloud.

Upgradable

Being on an IP platform makes future technology upgrades accessible and economical as users are able to receive and initiate calls on laptops and mobile phones easily. Even if you upgrade your devices, your IP phones will still work.

Mobility

IP telephony system enables your remote office to go fully mobile in a matter of a few seconds! It enables users to remain connected, collaborate and communicate while working remotely or even when moving from one location to another. With IP telephony, employees can also work remotely from any location in the world. Within the office too, if an employee needs to move to a different desk, all he/she needs to do is to take the phone to their new desk.

Unlimited Simultaneous Calls

If you wished to make a call while already on another call on a traditional landline phone, you would not be able to do that. But with an IP phone, another line or rollover line, which comes at an extra cost, is not needed as the system enables unlimited simultaneous calls.

Better Call Quality

Since the voice of a caller is converted into voice packets and transmitted over the internet through servers to the receiving party, the call quality is a lot better, giving users the benefits of uninterrupted communication and clarity.
Why Should You Engage Adventus?
We, at Adventus, believe and understand that the ability of an organisation to communicate effectively and efficiently, internally and with external parties, has a significant impact on its bottom line.
An organisation with an excellent communication infrastructure can benefit from higher employee productivity, greater employee satisfaction, a higher rate of innovation and stronger customer engagement. Therefore, we focus on facilitating excellent and reliable voice, data and video communication in organisations. We have valuable experience in designing, implementing and maintaining IP telephony and contact centre systems and solutions, to make sure that your business is equipped with the most suitable solutions.
Our strength is our team of strong and motivating voice and network engineers who are especially trained and certified across a wide range of brands and solutions.
Conclusion
The benefits of an IP phone are many — it's easy-to-use, low maintenance, and modern. It also takes away a significant amount of on-site labour that goes into managing a phone system. An IP phone system offers long-term benefits and cost-effectiveness and is a viable and smart option.